For millions of people, gastroesophageal reflux disease, or GERD, is a painful and uncomfortable condition that interrupts their life on a daily basis and can leave them feeling discouraged and defeated. In fact, up to 30 percent of Americans suffer from GERD, or heartburn, and many of those patients resort to taking antacids or medications in order to manage it. Often, prescription medications for GERD can lead to side effects such as nausea, diarrhea, chronic vitamin b12 deficiency and fundic gastric polyps.
While taking prescriptions for GERD is a common option for those who suffer from the condition, many people find themselves wishing there was a more natural way to relieve the symptoms. This is where GerdLi comes in. GerdLi is the world's first natural antacid supplement and was created via a custom physician-engineered formula using the rinds of citrus fruits. GerdLi helps to alleviate the symptoms of GERD the natural way, in use with lifestyle modifications and as an alternative to antacids. 
By incorporating GerdLi into an already healthy lifestyle, those who suffer from GERD will experience relief. They can be assured that they're adding something natural into their regimen that will, in the long-term, help them manage their GERD and ultimately feel better.
What is GERD and how does GerdLi help?
GERD is a condition that develops when stomach acid enters the esophagus and causes troublesome symptoms and complications. It is often referred to as heartburn, and those who have GERD will typically feel pain or discomfort after consuming certain foods or drinks. GERD is a clinical diagnosis or a diagnosis that is made by a patient after relaying their symptoms. If the case is more severe, testing can be done or if the diagnosis is inconclusive. Lifestyle modifications, including dietary changes and weight loss mainly, are done to help manage GERD. However, many people still find themselves on prescription medications.
Created as a natural alternative to prescription medications like antacids, GerdLi is a supplement for those looking to manage their GERD more naturally. GerdLi uses D-limonene, a compound derivative that is sourced from citrus fruits such as oranges, grapefruits, mandarins and limes. D-limonene works to decrease stomach acid content, which in turn helps reduce heartburn. 
Due to D-limonene's gastric acid neutralizing effect, research has shown it to be highly effective for heartburn relief. D-limonene targets 10 of the most common symptoms of reflux, which include bloating, belching, nausea, indigestion, chest discomfort, hiccups, sour taste, excessive salivation, coughing and even tooth erosion. 
By using the highest grade and naturally sourced ingredients, GerdLi is effective in helping to relieve symptoms in a way that's more natural and may be able to help some patients reduce their use of medication. In short, GerdLi should be considered as a complement to living a healthy lifestyle. It's an alternative for those who are hesitant to jump to prescription-strength medications like PPIs, H2 blockers and sucralfates.
D-limonene is not for people who have a history of severe esophagitis, an ongoing history of poor lifestyle behavior or morbid obesity.
Origins and creation
The process of creating GerdLi began in 2017 and took nearly three and a half years to materialize. Dr. M, the physician who developed GerdLi, was fueled by his own personal interest and experience with chronic GERD leading to esophagitis. Dr. M had been hospitalized twice in the last four years for severe esophagitis – once in 2016, and one more recently in November 2020. He was then diagnosed with LA grade D esophagitis, which affected his ability to eat due to pain. 
Dr. M had to be on soft foods for almost two months and a high-dose proton pump inhibitor for those two months. He is now on 40 milligrams PO a day for life. This was hard for him to accept, especially considering he is relatively young. In addition to medication, Dr. M had to quit caffeine and social drinking. He also experienced weight loss and food phobia. He said not being able to enjoy certain foods and drinks can cause a depressive mindset, and being symptom-free and feeling better allows the individual to have more confidence in the choices they make. 
An American board-certified internal medicine physician with nearly eight years of experience, he was determined to find a way to help manage his symptoms more naturally. A physician who has presented at national and international conferences and has published multiple research articles in high-impact journals, Dr. M came across D-limonene in 2017 and began his own research project on it. After his most recent incident, he said it pushed him to the point where he had to do something. 
"Although my case is a severe example, there are millions of people who are affected by GERD," he said. "Instead of having to take medications for life, many like myself wish there would be a natural alternative. I created GerdLi to find a natural option for those who suffer from GERD and may feel as though prescription-strength medication is their only choice." 
Testing and trials
To make GerdLi as effective as possible, the process of development and testing was extensive and thorough. During the development, which took place over the course of more than three years, 78 patients in the United States and Canada took GerdLi under supervision. The inclusion criteria for test patients was that people needed to be over the age of 18, relatively healthy with no significant medical comorbidities and symptomatic yet untreated. Test patients could not have had a history of alcohol misuse, any known history of severe GERD or esophagitis or be already taking any proton pump inhibitors. 
After 12 weeks of testing, more than half of the patients noticed an improvement in their symptoms. After seeing successful results and no adverse effects, GerdLi began production in order to be available for sale and use by eager consumers.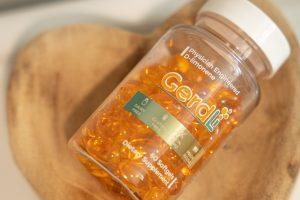 Feeling better with GerdLi
GerdLi is simple to use and the capsule is small, which makes it easy to swallow. Dr. M said by adding GerdLi into a healthy lifestyle plan, people will see results quickly. Most people who have taken GerdLi have noticed an improvement in their acid reflux symptoms within two to four weeks. 
It's recommended that users take one 500-milligram soft gel capsule twice daily for a total of 1,000 milligrams. Users should not take more than four capsules within 24 hours. There are no known side effects or reactions to GerdLi noted by trial participants, as Dr. M said the supplement is very safe. GerdLi is specially manufactured in a facility registered by the Food and Drug Administration to ensure the highest quality, and it is made from the highest potency, specially sourced D-limonene.
To start using GerdLi, Dr. M said there are two approaches one could take. The first would be a "step-up" approach, where a user begins by modifying their lifestyle. This includes reducing consumption of caffeine and alcohol, eating smaller portions or cutting out carbonated beverages like soda. At this point, the user would start taking GerdLi before resorting to a prescription.
The second approach is the "step-down" method, which is for those who have been stable for a while but feel stuck in their medication regimen. In this case, GerdLi would serve as a complement, where users would still receive treatment but start incorporating GerdLi. Both approaches entail implementing a healthy lifestyle, which includes diet and exercise. 
GerdLi is available through a number of ways, whether users want to order one month's supply or sign up for a subscription. A one-month supply of GerdLi is $29.99, a three-month subscription is $89.99 and a six-month subscription is $179.99.
It should be noted that GerdLi has not been evaluated by the Food and Drug Administration and is not intended to diagnose, treat, cure or prevent any disease or health condition. As with considering or starting any new wellness-related therapy, users should always speak with an appropriate health care professional prior to use.
What the future holds
When it comes to the future of GerdLi, Dr. M said he hopes to affect lives on a greater scale beyond his day-to-day reach of patients he sees currently as a physician at a hospital. For now, his primary priority is GerdLi and getting it to people who are seeking a natural alternative to help alleviate their GERD symptoms. He hopes to be able to help people everywhere who suffer from GERD and are looking for relief.
GerdLi's goals also expand beyond immediate users and helping them feel better. The product's mission is also based on helping further medical research, and part of its proceeds will go to the Esophageal Cancer Society. 
With GerdLi, hope is on the horizon for individuals who suffer from GERD. The supplement will allow them to have access to a new choice to alleviate their symptoms and start feeling better. Not only will GerdLi provide relief, but it also paves a path toward improved health – the natural way.