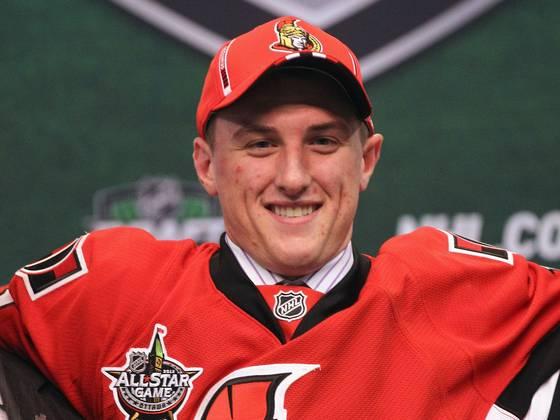 Stefan Noesen's Ontario Hockey League suspension will also bar him from the world junior championships.(Photo: Bruce Bennett, Getty Images)
Story Highlights
IIHF recognizes suspensions from other leagues
Noesen will have seven games left on suspension by the time the tournament begins
USA Hockey will cut roster to 23 before heading to another camp in Finland
USA Hockey was in the process this week of whittling four players from its preliminary world junior championships roster.
The International Ice Hockey Federation made one of the decisions on Monday for the Americans.
Ottawa Senators 2011 first-round pick Stefan Noesen was declared ineligible for the post-Christmas tournament because he has been suspended by the Ontario Hockey League for 10 games over a Dec. 8 hit on Oshawa Generals defenseman Tyler Hore.
Because the IIHF recognizes suspensions from other leagues and the Plymouth Whalers forward will have seven games remaining on the suspension by the time the tournament starts on Dec. 26, the federation said he was barred from playing for the USA.
"While we respect the IIHF's decision, we don't feel the process is equitable," said Dave Ogrean, executive director of USA Hockey. "Moving forward, we'll work with the IIHF and other federations to address the situation."
Noesen, whose hometown is Plano, Texas, has 17 goals and nine assists in 26 games with the Whalers.
MORE: Team USA's preliminary roster[1]
Team USA is holding a camp in Tarrytown, N.Y., through Tuesday in preparation for the tournament in Ufa, Russia. The roster will be cut to 23, and the remaining players will head to Finland for another camp.
The USA won gold in 2010 and bronze in 2011 but fell to the relegation round last year. The Americans will compete in a group with Canada, Germany, Russia and Slovakia.
NHL Network, meanwhile, announced that it would broadcast every U.S. game, including its two pre-tournament games in Finland. All told, it will air 18 games, including the medal round.