What does the future hold for Carrie and Brody (Claire Danes and Damian Lewis)?(Photo: Kent Smith, Showtime)
Story Highlights
The show is up for four Golden Globe awards
'The story is everything,' actor David Harewood says
Show's writers have just begun talking about Season 3
Spoiler alert: If you haven't seen Sunday's 'Homeland' season finale, read no further.
Just days after being nominated for four Golden Globe awards, Showtime's Homeland wrapped up its second season with a cataclysmic event which has congressman/terrorist Nicholas Brody (Damian Lewis) on the run and left a key character, CIA director of counter-intelligence David Estes (David Harewood), and others dead.
"We have this saying on Homeland, that the story is everything," Harewood said in a Monday morning conference call with reporters. "We all as actors will go where the story takes us."
Harewood had no idea where his character would end up at the close of Season 2, "but it was kind of thrilling, really. Of course, when I got the call, I was disappointed and a little bit down, but I'll be honest with you. I think that 20 minutes after getting the call, I wrote (executive producer) Alex Gansa an e-mail just saying how grateful I was for the opportunity."
Harewood said his time on Homeland was "two of (my) best years being tutored by some fantastic actors. I'm primarily a British stage actor. They were brave enough to cast me in this very important role. It's been an absolute joy, so there's been no tears here, only positives."
Gansa says he and the show's writers have just begun talking about Season 3 and that "nothing has been set in stone."
He did say that next season Brody will be "fugitive No. 1" and how being in hiding will affect the character's screen presence has yet to be determined.
Here's how the finale played out:
Following last week's episode which served up two shocking murders — those of Vice President Bill Walden (Jamey Sheridan) at the hands of Brody and the death of terrorist Abu Nazir (Navid Negahban) by U.S. military personnel — the finale embraced a more languorous pace and a more personal storyline. The first 40 minutes focused primarily on the romantic relationship between CIA analyst Carrie Mathison (Claire Danes) and Brody.
They spend an idyllic night at her family's lakeside cabin (under the watchful eye of CIA sniper Peter Quinn, who was sent to kill Brody) and talk about spending the rest of their lives together. For Carrie, that would mean giving up her job at the CIA. For Brody, it means giving up his wife and children and career in politics.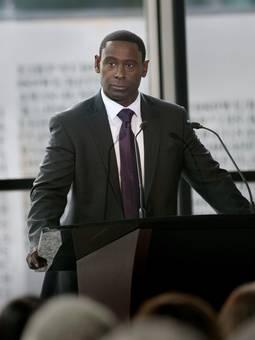 According to David Estes' (David Harewood) plans, Nick Brody was the one who wasn't going to survive the 'Homeland' Season 2 finale. Instead, it was Estes himself.(Photo: Kent Smith, Showtime)
Forty-one minutes in, at a memorial service for Walden at CIA headquarters in Langley, Va., a car bomb planted in Brody's SUV explodes, killing more than 200 people, including Walden's widow Cynthia and son Finn, and David Estes.
Saul Berenson (Mandy Patinkin), Carrie's champion at the CIA, is now in charge of the anti-terrorism unit in the wake of Estes' death. (During the Langley attack, he was on an aircraft carrier overseeing Nazir's burial at sea.)
Convinced that Brody will be blamed, despite his claim of innocence, Carrie convinces him to go on the run. While it looks, at first, as if she'll run with him, she leaves him at the Canadian border.
Meanwhile, a confessional video is released to the media — one that Brody made last season, right before he nearly killed himself and others with an explosive vest — making it appear that he's confessing to the bombing at Langley. A terrorist group also announces its culpability in the bombing.
Sounds like Carrie has a new terrorist, one who set up Brody, to hunt down.