They say every dog has his day, and if pet lover and software developer Bill Rebozo has anything to do with it, that dog's day will be this spring with the launch of BabelBark. BabelBark is an ingenious suite of products designed to help connect pet parents to pet vendors, offering a one-stop-shop of resources for our furry companions. Not only does BabelBark curate a community of care, it even features a mobile app that tracks your dog's life, sharing the information with their veterinarians, pet sitters, groomers and more. With all of the insights and options BabelBark provides, your dog just might end up teaching you some new tricks!
BabelBark founder Rebozo found time just before launch to catch up with Seattle Metro Magazine, giving us insight into the project, including how his personal experiences of pet parenting inspired it and what his goals are for the future of dog lovers across the country.
Seattle Metro Magazine: Bill, thanks so much for catching up with us. I'd love to find out how the concept of BabelBark came together? 
Bill Rebozo: We adopted a dog from Adopt A Pet, down in Shelton, WA, about 7 years ago. His name is Doog. When we adopted him from the shelter, we got all kinds of coupons from a pet super store for food, vaccinations, training and other goodies. As new pet parents, not knowing anything about being pet parents, we went to the closest pet super store and ended up being loyal customers for years. It was super convenient. Big box pet super stores are horizontally integrated; Doog's veterinarian, groomer, dog food and training were all available under the same roof. After a bit of time, however, we got turned on to premium, regional dog food brands, most of which were not available at pet super stores.
So, we started going to a regional independent store which was great. Everybody there knows my name (actually, they just know Doog's.) Then a friend recommended a regional do-it-yourself dog wash spot. We'd been taking Doog to the groomer at the pet super store for years at this point, and what do you know? The place was great, the people were friendly, and Doog loved it. Who knew? But the real kicker was when Doog started limping.
This went on for quite a while. We took him to the veterinarian again, conveniently located in the pet super store, just like we had for years. They took x-rays, did tests and ultimately came up with nothing. Each time we visited there was a different veterinarian and the whole process was unsatisfying. Then, again, somebody told me about their regional, independent veterinarian, who ended up being right down my street. We gave it a shot and had a brilliant experience. They knew exactly what was wrong, how to fix the problem and how to explain it to us. We saw the same veterinarian each time, who turned out to be one of a very few trained in a cutting edge procedure (Tibial Tuberosity Advancement) to fix Doog's knee. It has been about 6 months and he is running around like a puppy again.
The convenience of going to a single place for everything is great, but something these independent operators can't emulate today. That is where BabelBark comes in. We create software that enables these providers to work together with a common platform, sharing medical records, food preferences, promotions, appointments, payments methods, etc…all in a single app which emulates the convenience of a pet super store.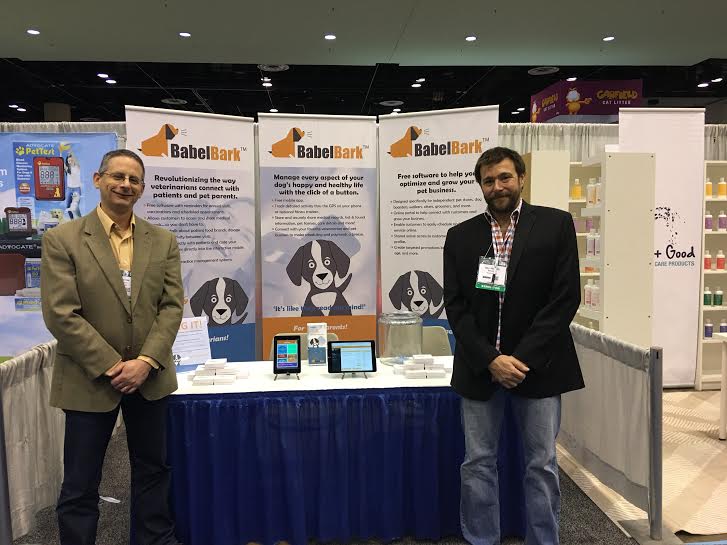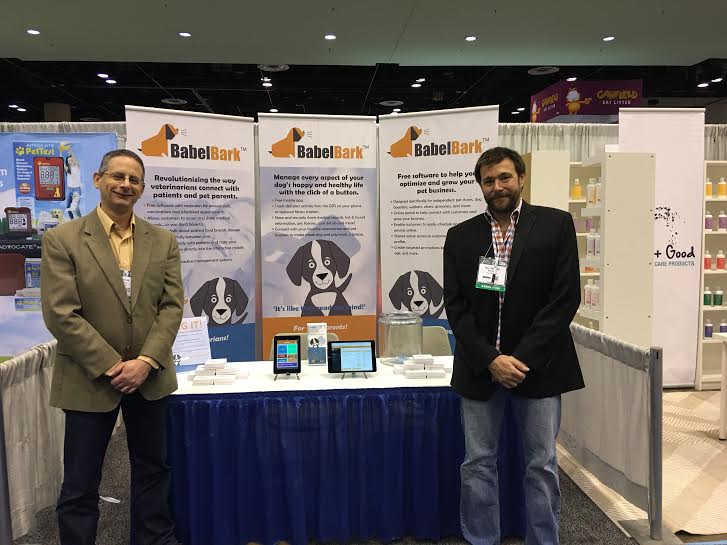 Why was it important to you to help pet parents form a community?
Rebozo: We are fond of the expression, "It takes a village to raise a child." Well, the same is true for dogs, even more so in many ways. A child can tell us what they want and as fellow human beings, we understand what they need. Dogs, however, can't talk and we don't always know what they need. Fortunately, there are lots of people who can help. Veterinarians, local pet stores, groomers, daycares, boarders, trainers, walkers, are all out there with knowledge, advice, products and services to help ensure our dogs are living the happiest and healthiest life possible. BabelBark connects them all under a single platform, creating a virtual "village" of experts that can help.
How did you go about putting this together?
Rebozo: We talked to a LOT of people. Pet parents, veterinarians and pet businesses. The unique needs of each became apparent quickly, but we couldn't figure out which group to build a solution for. But that is when it hit us. We didn't need to build a solution for one group, we needed to build an integrated solution for all of them, with a shared cloud infrastructure and unique applications for each group.
What are the various features of the app?
Rebozo: We are launching two components of BabelBark. The mobile app for pet parents and BizBark™, our software tools for pet businesses. The mobile app helps pet parents keep track of vaccinations, dietary needs, medical dosages, activity levels, lost & found details, you name it. But the app also makes it fun. BabelBark uses gamification techniques (like you'll find in Waze, Fitbit, etc.) to make sure you hit activity, diet and medical goals…which can be validated and shared with your veterinarian.
You can record activity using the in-app GPS when walking your dog, or purchase our fitness tracker to record activity 24/7.
We will integrate with veterinarian practice management software to import medical records or users can simply request a copy thru the app. We are working with the Dog Food Advisor so you can review the ingredients and nutritional quality of dog food brands. We are also working with Animalytix to provide pet parents detailed information about the medications and supplements they are using. Pet parents will receive Groupon-style promotions from regional pet businesses and can make purchases or schedule appointments with the swipe of a button within the app…..and this is all just what we are starting with. We've got BIG plans for BabelBark.
BizBark™ will include a SaaS based portal that anybody in the pet business can use. We provide online tools for scheduling, communication, contact management, payments, and highly targeted promotions. The best part is that BizBark uses the same cloud infrastructure as the mobile app for pet parents, so all the data is integrated. So for example, a pet parent can request of copy of their medical/vaccination records, store that in the BabelBark cloud, and share that with anybody that requires it (like a boarder, groomer or emergency clinic.) Likewise, your dog walker might notice your dog isn't reaching their activity goals and offer discounted services to help get you back on track. The best part is that most of these features are free.
That sounds like a tremendous amount of work! Tell me about the team behind BabelBark who are making this all possible.
Rebozo: My partner, Roy Stein, and I have worked together for years now. Together, we've developed smart grid software, environmental management systems, IoT platforms, telecommunications infrastructure, command and control solutions, you name it. Roy is the operations ninja and finance mastermind that runs the company. I focus on the product and partner strategies. We are also working with a crack team of local engineers at Seattle Software Developers to put this complicated framework together while simultaneously making it incredibly user friendly. Lastly, we integrate services from strategic partners directly into the platform to extend the overall functionality. Our partners provide capabilities that span from lost & found services, 24/7 veterinarian hotlines, fitness trackers, integration with veterinarian practice management software, dog food analysis, and much, much more.
When does BabelBark formally launch, and what is slated?
Rebozo: We launched our Beta program, which includes the mobile app and BizBark business tools on March 16 at Global Pet Expo. For those that couldn't join us in sunny Orlando, participants can sign up at www.babelbark.com/beta–but space is limited, so register soon!
How will the users interface with each other? What kind of community do you hope it builds?
Rebozo: For pet parents, we provide  convenience and education. Features like reminders, promotions, communications, and scheduling make it convenient while highly targeted informational content educates them. For example, BabelBark "knows" when different vaccinations are due and educates pet parents about the importance of each as those dates draw near. Now, when they get the vaccination reminder, they know what that particular vaccination is for and why it is important.
What will the vendor's experience be like on BabelBark?
Rebozo: Here is a good example. Knee surgery for dogs is actually a bigger industry than knee surgery for humans—believe me, I know. Doog had both his back legs worked on. While we commonly think activity trackers are used to measure activity—well, in this case, we want to measure inactivity. The dog is supposed to be on a strict regimen of supervised, short walks. For some dogs, like Doog, this can be difficult. With our activity tracker, the veterinarian can program a limited activity goal and view details in near real-time or historical trends between visits. They can also see information like details about dog food brands (ingredients, nutritional values, etc.) and make informed dietary recommendations.
Pet businesses can securely access pet profiles and customer information from the BabelBark cloud. There is no need for a pet business to request redundant medical records, track vaccination schedules, update contact information, or ask for care instructions, it all lives in the BabelBark cloud. But it gets even better than that.
Pet businesses can create highly targeted promotions based on the unique profiles of each dog. So for example, a regional vendor might offer hydrotherapy for senior dogs with arthritis. They can target dogs based on age, weight, breed and practically any other detail to ensure their offer is seen by the right people. Of course, pet parents must opt in for these types of offers.
How do you think technology changes pet ownership for the better?
Rebozo: As a lifelong software developer and technical evangelist (that was my actual title at Microsoft at one point), I use technology everywhere. I've got all kinds of "smart" stuff in the house, cars, wearables, you name it. I prefer online banking, online shopping and have an app for everything. When it comes to Doog however, the options were limited.
Doog can't talk—well he does, but I don't know what he is actually saying—and I don't know if he is as happy and healthy as I want him to be. I'm not an expert. I don't know what is best. What kind of dog food should I use? When are his vaccinations due? Does he get enough activity? I don't know. BabelBark is designed to give Doog a voice and help me understand what he needs and how to get it.
There are plenty of dog friendly apps and pet business tools that provide components of this overall functionality, but BabelBark is the only platform that integrates it all…ensuring I can provide Doog with the happiest and healthiest life possible.
Do you have plans to adopt anymore pets besides Doog?
Rebozo: We've adopted chickens, chinchillas, and Doog so far…but the door is always open!
As dog owners ourselves, the team at Seattle Metro is eagerly anticipating checking out BabelBark and discovering a new platform of possibilities for our pets! Check out http://www.babelbark.com for more information, including the beta program and breaking news.