Most of us use Facebook to share news friends, family, and other connections. We join groups with similar interests. We post pictures that are silly, inspirational, or the latest and greatest selfie we have taken. Using the Facebook app on an iPhone can be a frustrating. The small print, the difficult navigation, and the irritation of trying to find the most recent posts (sorting is not an option on the mobile version for iPhone… at least it isn't easy to find if it is) can make many users simply abandon the app and wait until they can reach a computer.
Take a look at these screenshots from my own iPhone Facebook app: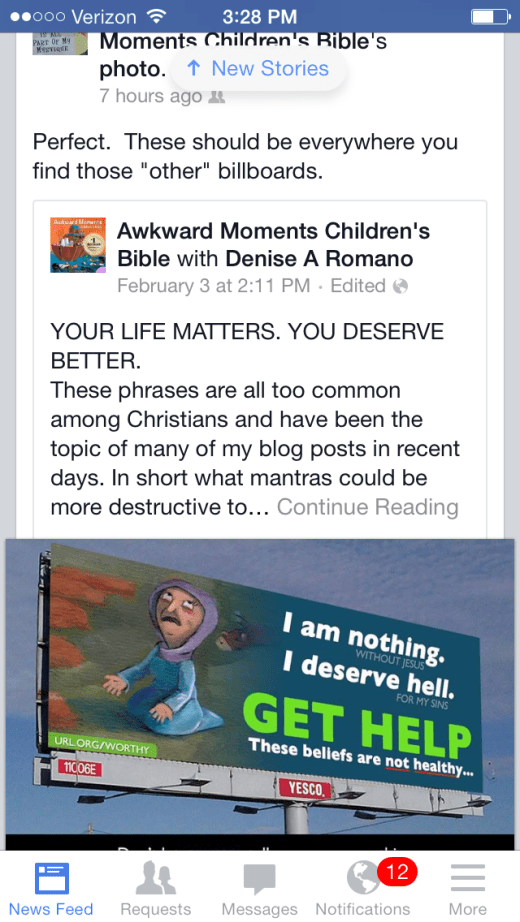 It's not particularly intuitive to find a lot of the information you might want to access. It's filed away under "More" and that isn't a full list – you still must expand further to find what you want.
In addition to your feed, you probably want to follow some news sites. Perhaps you'd like the latest tech news at your fingertips or pop culture stories or recipes. A new app makes everything available right through a Facebook interface that is easy to read, flexible, and fun to use.
Enter Paper – stories from Facebook. Paper is Facebook in a way that is easy to read and enjoy. It is uncluttered and has an easy to use, intuitive interface. Add the headlines of your choice and you can browse Paper easier than you could ever browse Facebook.
Customize your Paper with the headlines that you want to read. You can change them at any time.
Your Facebook page will feature the latest conversations that would normally be on your Wall. Tap the posts to open them and view comments or add your own. In the top right corner, over the changing post screen, notifications of new comments, requests, and messages appear. Tap to view. Each element scrolls, folds, opens into a full page and encourages interaction, whether from the Facebook page or the chosen Headlines pages. All are from Facebook and all are insanely easy to view. Each of these examples is a screenshot taken from my iPhone 5s.
Each section allows a custom view, chosen by the user. Writing a post is achieved with a simple swipe. Sharing photos has never been easier with just a few swipes and touches – just a full screen view of your post.
If you have ever been frustrated by the limitations and complications of using the Facebook mobile app for iOS, you'll enjoy Paper. It might take getting used to… it IS easier, after all. With any luck, the app, with over 6,000 reviews, is successful enough to move onto other platforms. The app has been available for three weeks and no download statistics have been made public, but the app has received favorable reviews in several tech magazines and websites.
If you have an iOS 7 device and Facebook, give Paper a try. It will change the way you view your social news.