Beezer Meets the Needs of Today's Modern Family.
It's when you've hit the snooze button on your alarm 5 times before you're summoned from your bed by the demands of your kids. You go straight into mom mode, preparing breakfast, packing lunch, and making sure that everyone in the house (husband included) is dressed and presentable. You are so busy with your morning routine that you didn't notice your phone's battery is on life support because you forgot to charge your phone overnight, leaving you with 5% battery life as you herd your kids to the car like a mother duck trying to lead her ducklings to water.
It's not until you've strapped yourself and the kids into the car, that you notice the dreaded low battery symbol. You begin to panic… You plug your phone into your car's charger, offering just enough juice to tide the kids over with YouTube's latest toy unboxing video or the baby shark song.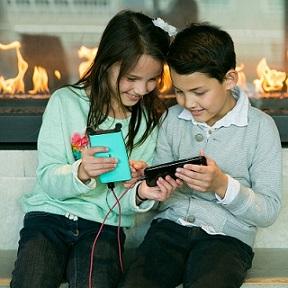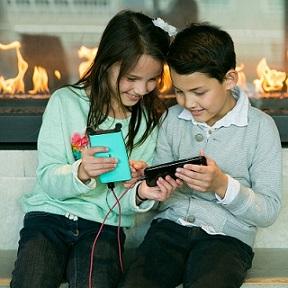 By the time you make it to work, you're at 4% battery for the entire day. You kick yourself all the way into the office, thinking of all the things you'll be missing out on. Small things, like listening to a podcast on the way to work, checking in with your friends on social media at lunchtime, and utilizing the e-coupons that you so diligently downloaded for a quick trip to the grocer after work. And bigger things, like the peace of mind you have knowing your husband and kids can reach you anytime, anywhere.
After many mornings like this I finally sought out a solution. As soon as I arrived at work, I made a straight dash for the cubicle of one of my most tech savvy colleagues. Jim is the one that I reach out to when I need help with tech related work assignments, but he's also been known to provide well rounded advice on big, tech related purchases for those who could use a little extra help. He was instrumental in helping me navigate Cyber Monday this year in an effort to find a flat screen TV that was both well priced and high quality.
As Jim patiently and expertly explained the ins and outs of portable power banks, including the importance of mAh power (the larger the mAh, the more capacity a portable power bank will have to charge your devices), I made a mental list of the qualities that were important to me. Qualities like style, durability (I do have a toddler, after all), and versatility.
During our conversation, a couple of our colleagues popped by to give their 2 cents on the subject.
"My portable power bank has been a lifesaver in countless situations," said Rachel, a writer and outdoor enthusiast. "I rely on it to get me through long hikes and use it for everything from my phone to my flashlights." She went on to detail a particular backpacking trip, during which she was the only hiker with full battery life at the end of the trip. "As soon as the two-day trip was over, my friends immediately plugged their mobile devices into their cars and zoned in on their social media accounts, anxious about what they'd missed out on over the course of 48 hours. I wonder now if they would have enjoyed the trip more had they not been wondering about all the things they were missing out on."
Hannah, a Washington State native that recently returned home from traveling abroad, chimed in. "I travel a lot and don't always have the proper connection. It's nice when I'm on the go, taking pictures of my friends and family, the scenery, and the local culture. It's when I'm taking a lot of pictures AND using my GPS that the portable power bank is most handy. Can you imagine having your phone die while trying to navigate your way through a non-English speaking country? It's an absolute nightmare! But I haven't had that happen since I started bringing a mobile power bank with me for that emergency charge. And I never miss an opportunity to take a photo now, either."
With my newfound knowledge and a mental list of qualities that made the biggest difference in my life, I set out to shop for my phone's companion. There are a lot of portable power banks to choose from in today's market, and no two are alike. In the span of a couple of days, I'd noticed character driven power banks adorning the backpacks of teenagers and streamlined versions sitting atop cafe table tops, plugged into an assortment of mobile devices belonging to hipsters and the like. With differences in battery capacity, appearance, functionality, and more, it felt a little overwhelming to make a choice. Fortunately, I was able to tap into Jim's legendary knowledge once again for specific brand details.  One brand in particular, Beezer, appeared to check all my boxes for what I was looking for.
Style
I'm a millennial mom, and proud of it. I've grown into adulthood during a time of blogging, design applications, and TV shows that make swoon worthy style inspiration readily available at any hour of the day. It's practically ingrained in me to desire a life of pretty and modern things. And for this reason, it was important to me that my portable power bank be stylish. Beezer's product earned double points as their power bank is both stylish AND whimsical, with a sleek design and two adorable antennae attached at the top that is reminiscent of a bumble bee ready to supply some much-needed buzz for your dying device. I'm partial to the ballet pink tone, but there are two equally visually appealing alternatives available: a mint blue/green and a golden yellow hue.
Lightweight & Durable
The Beezer portable power bank is sleek. Roughly the size of my phone, this little gadget slips easily into my pocket, purse, or diaper bag. And at only 2.9 ounces, it weighs approximately the same as a small apple. But don't confuse lightweight with flimsy; Beezer's portable power bank was carefully constructed with the world's safest lithium-ion polymer to guarantee durability. Beezer's website makes mention of their dedication to creating a sustainable product so as not to create unnecessary waste that adds to the landfills. While this dedication to an environmentally friendly design is noble, my desire for a durable product goes beyond my love of nature. As a mom, nothing is completely mine; My toddler is under the assumption that everything I own is his to enjoy… or destroy. He does not think twice about taking an item out of my purse and running off with it, only to present it later in pieces, complete with puppy dog eyes that beg me to put it back together again.
Versatile
Our household utilizes a variety of devices; I have an Android, my husband has an iPhone, and we both utilize wearable devices on a daily basis. Beezer's portable power bank is compatible with all of them. With a Lithium Polymer battery and a 12-watt fast charge, we have our devices charged up at all times without exception. In fact, I'm happy to report that the Beezer portable power bank can provide life for up to 3 phone charges, 4 smart watch charges, or 2 tablet charges. This was a huge selling point to my husband, who leans toward minimalism.
Perhaps my best trait as a discerning customer is knowing that it isn't JUST the style, durability, and versatility of this item that makes it such a must-have. It's the peace of mind that it offers me. It's the comfort of knowing that I will never be unreachable to those who need me the most. Since I made my purchase, my mornings have become less chaotic. In the same manner as putting the next day's clothing out before going to bed, or setting the timer on my coffee pot, I keep my fully charged Beezer tucked away in my purse for a time of need. And to be honest, I find myself in a situation where I need my Beezer more often than I'd like to admit, simply because I'm human and a busy mom. Somewhere between making dinner, bath time, and falling into bed much later than I'd like, I forget to charge my phone.
"In today's world, moms are expected to be everywhere and to do everything," said Liz, fellow toddler mom and art gallery owner, during a recent play date. "It's perhaps best demonstrated in the fact that my son's preschool teacher texts me throughout the day if there are any outstanding issues. And then there's coordinating all of my son's needs with my husband, who works full time. We coordinate transportation, activities, meal planning, and so much more on a daily basis. If I had to rely on my memory, or old school pen and paper, I would lose my mind. My electronics are an extension of my role as a mother, as silly as that may sound!"
How does a portable power bank, like the one sold by Beezer, make your life easier to manage? Leave a comment and let us know. And, if you're interested in learning more about Beezer, pop on over to Beezerpower.com where you can learn about available products, the company's dedication to environmentally friendly design, and so much more.