With whimsy and creativity, alphabet-themed apps can do more than simply teach the ABCs. This collection of alphabet apps is full of inventive ways to engage kids — from teaching the alphabet to creating fanciful objects out of everyday items to solving puzzles and playing games. One app isn't even intended to teach ABCs, but rather it uses the alphabet as artistic building blocks.
Endless Alphabet
From Callaway Digital Arts Inc., best for ages 4-7, Free, iPhone, iPod Touch, iPad[1].
Rating: 4 stars (out of 4)
"Endless Alphabet" makes learning phonics, spelling and word definitions so much fun that even reluctant learners will want in on the action. This alphabet game is set inside a friendly monster's mouth where the letters of the alphabet appear on his lips. When kids touch a letter, a word that starts with the selected letter appears inside the monster's mouth. Players trigger a game about the word when they touch it inside the monster's mouth.
The word appears in colored letters. Then a group of monsters runs by and dislodges the letters. As the player taps and drags each letter back to its shadowed outline, the letter comes alive, wiggling, blinking and saying its sound aloud. It is hilarious. When all the letters are back in order, an animation starts that helps kids to learn the definition of the new word.
This collection of words, which all lend themselves to silly and adorable animations, are what makes this alphabet app a winner. With the word "Juggle," a red monster with six hands juggles the letters of the word until he gets them in the correct order. For the word "Nosey," the animation shows a two-headed monster where one head has a wrapped present and the other is nosey about wanting to see it. "Itchy" is my favorite, where a little blue furry monster is so itchy that he scratches his fur off.
Callaway Digital Arts, which is well known for creating the Sesame Street app "The Monster at the End of This Book…starring Grover," is offering this gem for free for a limited time. Don't wait, download it now.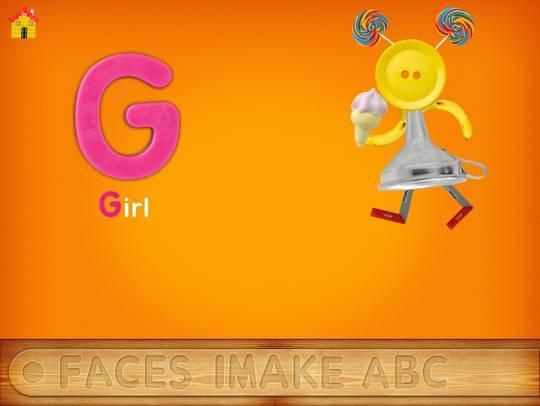 puzzles with letters, kids learn ABCs and creativity by playing iMagine machine's new "Faces iMake – ABC."(Photo: iMagine)
Faces iMake – ABC
From iMagine machine LLC, best for ages 3-6, $1.99, iPad[2].
Rating: 4 stars
This app skews a little younger because it introduces kids to each letter of the alphabet. Its magic is how it associates a letter with an object. The objects are all constructed out of collage materials; and they come apart in the form of a puzzle. Kids get to put the object back together by tapping and dragging the parts to the outlined shapes.
Since this app is coming from the brilliant iMagine machine team, expect these objects to be highly creative and unusual. For example, with the "G-"for-girl puzzle, kids recreate a little girl from lollipops, a button, a funnel, bananas and "L" shaped pieces of wood. When a child slides the piece to its correct location, she is rewarded with a special silly sound. These puzzles, one for each letter of the alphabet, draw kids in and make playing with ABCs fun. Plus they help teach young children that there are lots of ways to create objects.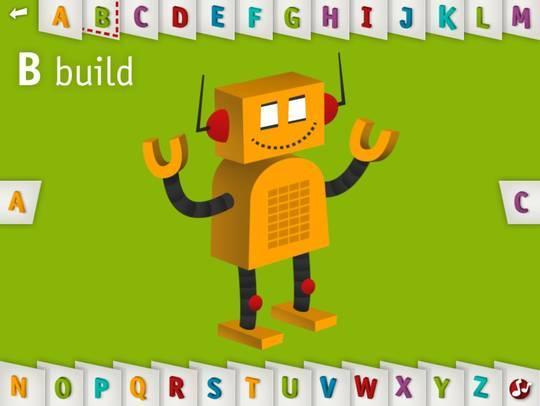 "AlphaTots" by Spinlight Studio stands out from the other ABC apps because it offers 26 mini-games in addition to teaching kids the alphabet.(Photo: Spinlight Studio)
AlphaTots
From Spinlight Studio, best for ages 3-5, $2.99, iPad[3], Android[4]. (iPhone/iPod Touch version is called AlphaTots Pocket for $1.99)
Rating: 4 stars
"AlphaTots" combines the 26 letters of the alphabet with 26 fun mini-games. By presenting action words for each letter of the alphabet, kids do something with each letter. For the letter "B," they will move parts of a robot around on the screen to "build." For the letter "K," kids "kick" a soccer ball into the goal by tapping the virtual ball.
This app uses bright, bold graphics and excellent pronunciation to introduce a letter, its name and the sounds it makes. But the hands-on games are what makes it stand out from all the other ABC apps crowding the app store, because they are inventive, original and greatly varied.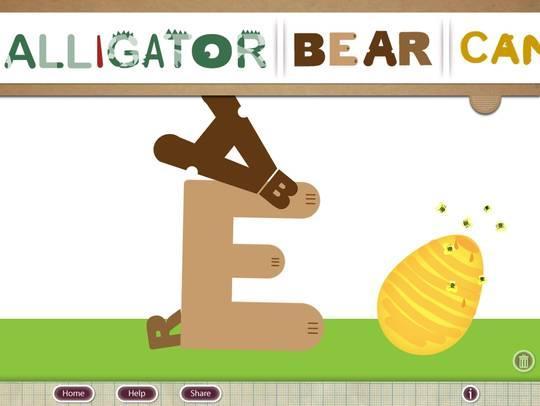 "Happipets" from Happi is an app that uses the alphabet as building blocks to create strange and wonderful creatures.(Photo: Happi)
Happipets
From Happi, best for ages 6-12, $1.99, iPad[5].
Rating: 3.5 stars
"Happipets" uses the alphabet as building blocks to create animals and make-believe beasts. With letters that have eyes, bony ridges, paw marks, dots, stripes and much more, they become building materials to create animals. Kids rotate, enlarge and shrink the letters so as to position them to form a creature.
While the app offers three methods of exploration, kids should start with the "Play" mode. In this area, kids select a familiar animal word, such as "bear" or "cat." The letters in the word separate to become your building blocks. When you move them into the correct position to create the animal, they "click" into place. If you need assistance figuring out how to combine the letters, the app offers a "help" button which temporarily shows you the solution.
The "Explore" mode lets you assemble fantastical beasts from the letters in their silly names, such as "Delipolk" and "Jorghee." In the "Create" mode, kids use their own imaginations to combine the fanciful versions of over 140 embellished letters to create their own beasts. They can save these creatures, select a background to display them and even write up "facts" about their creations. Kids can share their creatures over email and, unfortunately, on Facebook (which is inappropriate for this targeted age, since you have to be age 13 to have a Facebook account).
Jinny Gudmundsen is the author of the new book: iPad Apps for Kids, part of the For Dummies series. Contact her at techcomments@usatoday.com[6]. Follow her @JinnyGudmundsen[7].