Tennessee Titans tight end Delanie Walker and San Francisco 49ers linebacker Aldon Smith were named in a lawsuit filed Tuesday in California by a man who was shot at a party the two players attended last year, according to CSNBayArea.com[1].
Per the report, Walker and Smith, former teammates in San Francisco, allegedly fired weapons illegally on numerous occasions during a June 2012 party hosted by Smith at his San Jose, Calif., home. Ronndale Esporlas filed the lawsuit in Santa Clara County on Tuesday.
Smith was stabbed at the party.
HE'S BACK: Payton restores New Orleans' faith[2]
AIR IT OUT: Do Broncos have 3 1,000-yard WRs?[3]
According to the lawsuit, Smith and Walker consumed significant quantities of alcohol and were legally intoxicated. It also said the players knew the handguns were illegally possessed.
Smith and Walker appeared on the balcony of Smith's home to try and end the party and began to fire shots into the air, the lawsuit said.
When Walker made his way to the driveway, he allegedly fired more shots into the air and toward others attending the party. The plaintiff claims he was shot twice in crossfire between two groups firing at one another and sustained "serious, catastrophic and permanent injuries."
Neither Walker nor Smith has been charged in the incident.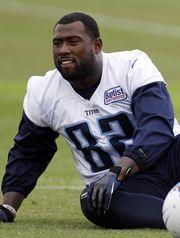 Tennessee Titans tight end Delanie Walker(Photo: Mark Humphrey, AP)
"The 49ers organization has been aware of this matter concerning Aldon Smith for some time," the 49ers said in a statement released to USA TODAY Sports. "We will continue to monitor the situation closely, but will have further comment at this time, as this is an ongoing legal matter."
The party started on June 29, 2012, and went into the next day. The players, per the lawsuit, allegedly charged $10 for entrance into the party and $5 per drink.
The Titans signed Walker to a four-year, $17.5 million contract in March. He spent his first seven NFL seasons with the 49ers.
Since signing with the Titans, Walker has worked with Mothers Against Drunk Driving to speak out in memory of his aunt and uncle, Alice and Bryan Young Sr., who were killed by a drunk driver outside of New Orleans in February following the Super Bowl between the 49ers and Baltimore Ravens.
Jim Wyatt covers the NFL for The Tennessean in Nashville, a Gannett affiliate.
Facebook Comments