The hockey world was abuzz Saturday night over a Montreal Canadiens player's allegation that Toronto Maple Leafs forward Mikhail Grabovski bit him.
"I saw the bite and it's on the video and I'm sure the league is going to pay attention to that," Canadiens coach Michel Therrien said in his postgame news conference.
MORE: 2012-13 NHL suspension tracker[1]
Sunday, NHL disciplinarian Brendan Shanahan agreed to look into the case. But Grabovski's hearing, originally scheduled for Sunday afternoon, was moved back to Monday morning. The NHL Players' Association requested the postponement.
Max Pacioretty had his arm wrapped around Grabovski's face while trying to intervene in an altercation between Grabovski and Brandon Prust during the third period. He quickly pulled away his arm and afterward showed a referee his arm. Both Pacioretty and Grabovksi got misconducts in the scrum.
The incident was captured by the Hockey Night in Canada telecast.
Earlier this season, St. Louis Blues forward Chris Stewart said the Columbus Blue Jackets' Derek Dorsett bit his hand during a fight, but there wasn't good video of that.
INCIDENT: Chris Stewart's accusation[2]
In one of the NHL's more famous biting allegations, the NHL's Mike Murphy said he found no conclusive evidence[3] to back Boston Bruins center Patrice Bergeron's claim that Vancouver Canucks winger Alex Burrows intentionally bit his gloved finger during Game 1 of the 2011 Stanley Cup Final.
About the Author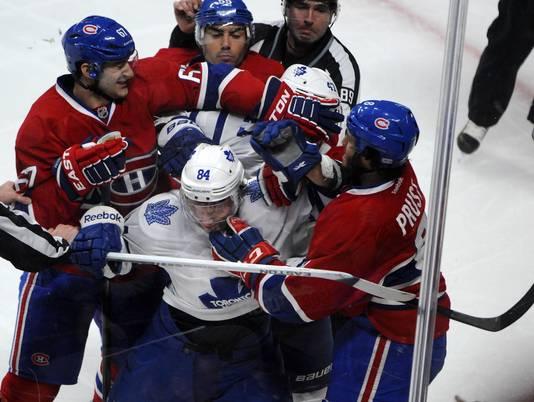 Mike Brehm
Mike Brehm, a lifelong hockey fan who once drove from Virginia to Winnipeg to see a game, has been hockey editor at USA TODAY since 1993. He has coordinated the hockey coverage of four Winter Olympics, numerous Stanley Cup finals and three lockouts.
Send Mike Brehm a Message
{ "assetid": "1906293", "aws": "sports/hockey/nhl", "aws_id": "sports_hockey_nhl", "blogname": "", "contenttype": "story pages ", "seotitle": "Mikhail-grabovski-hearing", "seotitletag": "Grabovski hearing over biting allegation now is Monday", "ssts": "sports/nhl", "taxonomykeywords":"Chris Stewart,Max Pacioretty,Brendan Shanahan,Mikhail Grabovski,Montreal Canadiens,Toronto Maple Leafs,Patrice Bergeron,Brandon Prust,Derek Dorsett,National Hockey League", "templatename": "stories/default", "topic":"chris-stewart,max-pacioretty,brendan-shanahan,mikhail-grabovski,montreal-canadiens,toronto-maple-leafs,patrice-bergeron,brandon-prust,derek-dorsett,national-hockey-league", "videoincluded":"no", "basePageType":"story" }