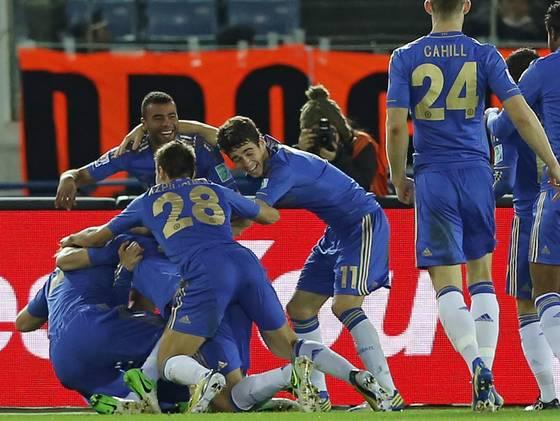 Chelsea's Fernando Torres is mobbed by teammates after scoring a goal that gave Chelsea a 2-0 lead.(Photo: Shuji Kajiyama, AP)
Story Highlights
Chelsea will play Corinthians in the Club World Cup final
11:22AM EST December 13. 2012 – YOKOHAMA, Japan (AP) — Chelsea reached the Club World Cup final by scoring twice in the first three minutes of the second half to beat Monterrey 3-1 on Thursday.
The final on Sunday will be the first for Champions League winner Chelsea and Copa Libertadores champ Corinthians, which edged Egypt's Al-Ahly 1-0 in the other semifinal on Wednesday.
"It was a good game for us," Chelsea coach Rafa Benitez said. "We had good tempo, good play and a lot of possibilities for us. I am pleased with the performance of our team."
Fernando Torres put Chelsea up 2-0 in the first minute of the second half when he took a pass from Eden Hazard and hit a left-footed shot that deflected in off a Monterrey defender. Two minutes later, Juan Mata's cross was knocked in by Monterrey defender Darvin Chavez for an own goal that made it 3-0.
Benitez had high praise for Torres, who scored his fifth goal in three games and has more goals this season than all of last season.
"He's doing well. He is much sharper," Benitez said. "I hope it will be more of the same in the future."
CONCACAF champion Monterrey finally scored through Aldo De Nigris in injury time. Monterrey will face Al-Ahly in the third-place game on Sunday.
"We regret that we lost the way we did," Monterrey coach Victor Vuctich said. "There was a short time where we lost our concentration."
Chelsea scored the only goal of the first half in the 17th minute. Oscar made a nifty back-heel pass to Ashley Cole, who centered the ball to Mata, who powered a low drive from 15 meters.
"To win the way we won was very important," Mata said. "We want to win this trophy to be the world champs. We were focused on scoring more goals and this has given us confidence for the final."
Chelsea's form has risen of late, with Benitez's imprint on the club starting to show since he replaced the sacked Roberto Di Matteo last month.
Chelsea became the first Champions League winner to fail to reach the knockout stage, but has now won three straight matches.
Benitez has led a team to the Club World Cup final for the third time, following Liverpool (lost) in 2005 and Inter Milan (won) in 2010.
Europe has won the last five finals, and Manchester United is the only English club to have won it, in 1999 and 2008.
Copyright 2012 The Associated Press. All rights reserved. This material may not be published, broadcast, rewritten or redistributed.
Facebook Comments