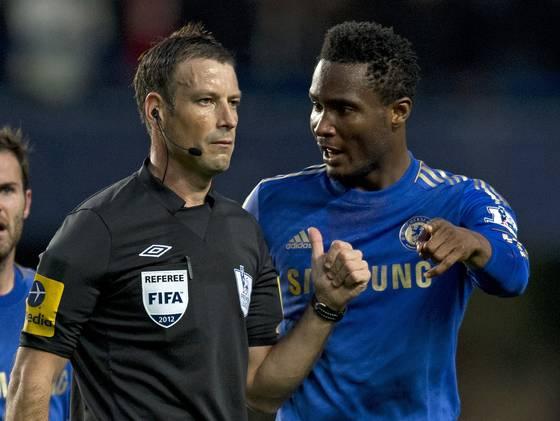 England's governing Football Association announced it would take no action against referee Mark Clattenburg over allegations he used a racist remark towards Chelsea's John Obi Mikel.(Photo: Adrian Dennis, AFP/Getty Images)
Story Highlights
Chelsea midfielder Ramires said he heard referee tell teammate John Obi Mikel "shut up you monkey"
According to the FA statement, Mikel did not hear what Ramires claimed Clattenburg said
Clattenburg is one of the FIFA candidates to referee at the 2014 World Cup in Brazil
5:26PM EST November 22. 2012 –
LONDON (AP) — Referee Mark Clattenburg was cleared Thursday by the English Football Association of using racist language toward a Chelsea player during a Premier League match.
Chelsea midfielder Ramires said he heard Clattenburg tell teammate John Obi Mikel "shut up you monkey" during the Oct. 28 match against Manchester United at Stamford Bridge, but the FA decided there was no evidence to back up the accusation.
"The FA has concluded its investigation into alleged misconduct by Mark Clattenburg," the FA said in a statement on its website. "In view of all the circumstances of the case, the FA does not believe that there is a case for Mr. Clattenburg to answer."
According to the FA statement, Mikel did not hear what Ramires claimed Clattenburg said.
Both the Chelsea players are black. Mikel is from Nigeria and Ramires from Brazil.
Separately, Mikel was charged Thursday with misconduct by the FA for "threatening and/or abusive and/or insulting words and/or behavior" after the game when he reportedly went into the referee's changing room to confront Clattenburg. Mikel has until Nov. 30 to respond to the charge.
"Chelsea Football Club accepts the Football Association's decision regarding Mark Clattenburg and welcomes the fact that the FA recognizes the club and players were correct in reporting the matter," Chelsea said.
The decision came on the same day that Rafa Benitez took over as Chelsea's new manager, replacing the fired Roberto Di Matteo.
The FA came to its decision on Clattenburg after reviewing witness statements from Chelsea players and officials, interviewing all four match officials and viewing unbroadcast television footage from Chelsea.
"To know you were innocent of something but that there was the opportunity for it to wreck your career was truly frightening," Clattenburg said in a statement. "I hope no referee has to go through this in the future."
London's police force looked into the situation after a complaint by the head of the Society of Black Lawyers, but the investigation was dropped.
The FA said the evidence for the allegation came only from Ramires, who said he overheard Clattenburg speaking to Mikel.
"Ramires, whose first language is not English, explained that his instinctive reaction was to seek confirmation from John Obi Mikel as to what the referee had said," the FA said.
"Equally, the FA is satisfied that the allegation against Mark Clattenburg by Ramires was made in good faith. It is entirely possible for a witness to be genuinely mistaken and convincing in his belief."
Clattenburg is one of the FIFA candidates to referee at the 2014 World Cup in Brazil.
Copyright 2012 The Associated Press. All rights reserved. This material may not be published, broadcast, rewritten or redistributed.