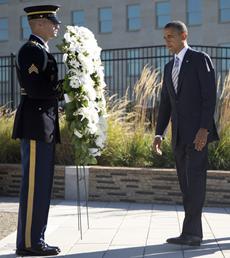 President Obama spent two-and-a-half hours this afternoon at the Walter Reed National Military Medical Center in Maryland, visiting with wounded warriors on this 11th anniversary of 9/11.
Obama spoke with 36 servicemembers wounded in combat — 28 soldiers and eight Marines — and awarded two Purple Hearts, the White House said.
The visit was closed to the news media.
Obama spoke of the military's sacrifices during a 9/11 ceremony[1] this morning at the Pentagon.
Said the president:
Most of the Americans we lost that day had never considered the possibility that a small band of terrorists halfway around the world could do us such harm. Most had never heard the name al Qaeda. And yet, it's because of their sacrifice that we've come together and dealt a crippling blow to the organization that brought evil to our shores. Al Qaeda's leadership has been devastated and Osama bin Laden will never threaten us again. Our country is safer and our people are resilient.

It's true that the majority of those who died on September 11th had never put on our country's uniform. And yet, they inspired more than 5 million Americans — members of "the 9/11 Generation" — to wear that uniform over the last decade. These men and women have done everything that we have asked.

Today, the war in Iraq is over. In Afghanistan, we're training Afghan security forces and forging a partnership with the Afghan people. And by the end of 2014, the longest war in our history will be over. Meanwhile, countless civilians have opened their hearts to our troops, our military families and our veterans.