"Kids have to be exposed to different things in order to develop. A child's not going to find out he likes to play a musical instrument if you never exposed him to it." – Temple Grandin
Located in Maple Valley, WA, Aim Star Learning and Director Lesley Pahl uses the techniques of Applied Behavior Analysis (ABA) to help instill a love of learning in children with autism and developmental disabilities. Each program has been carefully created for each child – taking into account the goals of the families, any challenges the families or school teachers are facing, and the child's interests. When a child is enrolled at Aim Star Learning, they work one-on-one with instructors and therapists to achieve these goals.
Autism Speaks, a non-profit organization dedicated to promoting solutions, across the spectrum and throughout the lifespan, for the needs of individuals with autism and their families, defines Applied Behavior Analysis (ABA) as "a therapy based on the science of learning and behavior" and notes "the goal of any ABA program is to help each person work on skills that will help them become more independent and successful in the short term as well as in the future."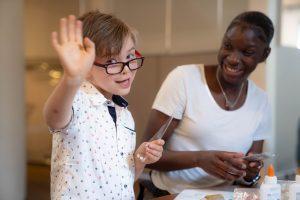 When a child is enrolled in a program at Aim Star Learning, the acclimation process can be stressful. Most times, this disruption to a child's routine can result in some protesting and crying – but it's nothing that Lesley and her team haven't seen before. Keeping up on the latest educational trends and developments, with a strong understanding of child behavior, the team at Aim Star Learning tries to make this scary time filled with new people and a new routine as easy as possible for any new child. Lesley notes that "Kids are so great… kids are resilient. They learn quickly and by building rapport, you'll find that they adjust to this new environment very well. While parents need to understand it takes a little bit of time to build relationships, Aim Star Learning starts slowly with each child. It's ok if a child doesn't love the program at first, I know the child will get there in a week or two. We may be going slowly now – but we're going to move quickly later! Progression works, and regression does happen, but it's a pattern we've seen with so many children."
Through Applied Behavior Analysis techniques, Lesley and her team at Aim Star Learning help children fall in love with learning. Sometimes a child will come into the program with developmental disabilities where they don't know how to play with certain things, and therefore feel left out when they see their peers doing something they don't know how to do. For example, a therapist or instructor will work with a child one-on-one to help develop their fine motor skills by playing with PlayDoh. This seemingly simple toy can be difficult and unappealing for a child who hasn't been taught how to play and doesn't have the skills yet to enjoy the activity. The therapist will show the child how to smash the PlayDoh, roll it out, and generally shape it with their hands to whatever the child imagines. There is a lot of role-playing that happens during playtime, where the therapist may roll the PlayDoh out into a tube and pretend it's a snake, then the child will mimic the object with their own PlayDoh, or create another animal or object. Through this activity, the child is learning how to mold the PlayDoh, but also how to communicate with the person they are playing with – and they don't even realize they're learning, but are realizing they love this activity and being able to share it with a friend.
Children that are enrolled in Aim Star Learning will work with therapists and instructors to develop skills that are not only useful in their day-to-day lives, like potty training or communicating their needs better, but also activities they can do with their families. If a family likes to go on bike rides, rollerskate, or hike together, Aim Star Learning will work with the children and the families to help them develop the motor skills needed to do those activities. Lesley finds that when the entire family can enjoy an activity together, it not only helps them bond, but it creates lasting memories.
By putting a focus on the child's needs and the family's goals, Aim Star Learning is able to create an atmosphere that is not only comfortable but conducive to learning. Helping the child learn to communicate their needs in a fun-filled environment is beneficial to the child's happiness and the family's overall well-being. Lesley believes that at Aim Star Learning, kids need to be kids and by learning in a controlled setting, they become more open to continuing to explore beyond their comfort zone.
While the enrollment process can seem rigorous, Lesley and her team at Aim Star Learning try to make it as quick and painless for parents or guardians as possible. Their team will take care of everything from helping the parents or guardians of prospective children fill out the necessary paperwork, to calling insurance companies to see how many hours of therapy are included in the family's insurance plan, to contacting the child's school and teachers when creating a completely customized learning plan. Lesley wants to see every child enrolled at Aim Star Learning succeed, and she knows that any success needs to start with a strong foundation.
Aim Star Learning will also keep the parents, guardians, family, teachers, and school up-to-date with progression. Lesley finds that when everyone is working together, it helps encourage the learning process in all aspects of the child's life. For example, if a child is having issues with disruptions in class, by being in touch with parents or guardians and school, everyone can share what they see is working and what isn't, if schedules are involved, and any signs they've noticed. Lesley will hold weekly or monthly meetings with parents or guardians to track progress at home, and they will reevaluate their curriculum every six months.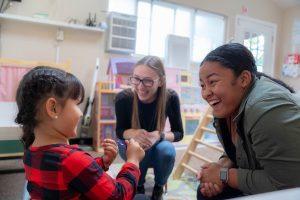 Lesley also encourages the therapists and staff at Aim Star Learning to not only keep up on their state and board-mandated training but to explore areas they're interested in becoming more knowledgeable about – and helping to provide the resources they need. To help cultivate an environment where everyone is continuously learning, Aim Start Learning will also work with local colleges and universities, inviting students to shadow therapists and instructors. Having the students come in not only helps them gain real-world experience working with children with autism or developmental disabilities but helps the staff stay up-to-date with what's currently being taught in schools.
Before working at Aim Star Learning, Lesley got her start in Physical Therapy and through her schooling, stumbled upon the techniques of Applied Behavioral Analysis. She had always loved working with children, and to her, the most natural progression from working in the field with children with developmental disabilities was to obtain her Master's degree and set out on her own. She started Aim Star Learning two years ago and has never looked back. Walking into the building each day, where she and everyone else on the team have the shared number one priority of helping kids with autism have more opportunities and be successful is more fulfilling than she could ever imagine. Running the business can sometimes mean dealing with paperwork – making sure that they are following the laws and regulations, keeping everyone certified and up-to-date on ethical and compliance standards – but she strives to not just meet the minimum of satisfaction at Aim Star Learning. Lesley and her team 'aim' to do a great job every day by providing the best services possible to the children and families that come to Aim Star Learning.
At the time of writing, Aim Star Learning has about 25 children enrolled in one of the programs offered. Knowing how in demand the services are, Lesley also tries to offer assistance to families that are on the waitlist or are currently going through the enrollment process to at least provide some type of parent training or offering other available services. She believes that early intervention for children with autism or developmental disabilities is crucial and that every moment counts when it comes to teaching opportunities. Aim Star Learning will work with children in preschool all the way through adulthood with the same fundamental rapport-building techniques, steadily pushing them outside of their comfort zone to grow their communication skills, fine motor skills, and more.
"For autistic individuals to succeed in this world, they need to find their strengths and the people that will help them get to their hopes and dreams. In order to do so, the ability to make and keep friends is a must. Among those friends, there must be mentors to show them the way. A supportive environment where they can learn from their mistakes is what we as a society need to create for them." – Bill Wong, Autistic Occupational Therapist
For more information on Lesley Pahl or Aim Star Learning, please visit www.aimstarlearning.com.