Spring is almost here, and with it comes a whole new crop of TV.  USA TODAY shares some picks (or pans) from broadcast, cable and streaming series:
Most essential viewing: Fox's Shots Fired (March 22, Wednesdays, 8) and BET's Rebel (March 28, Tuesdays, 10)
Two topical new series are tackling police brutality head-on. Shots Fired, from filmmaker Gina Prince-Bythewood (Love & Basketball), charts the aftermath of a racially charged shooting in a fictional North Carolina town. Rebel follows an Oakland cop (Danielle Moné Truitt) who becomes a private investigator after her brother is killed by police.
Reboot we (probably) don't need: Fox's Prison Break (April 4, Tuesdays, 9)
Michael Scofield (Wentworth Miller) is back from the dead in the return of Paul Scheuring's jailyard drama, which was canceled after four seasons in 2009. But as nice as it'll be to see Miller and Dominic Purcell reunited as brothers onscreen, this reeks of another Fox money grab, a la the poorly reviewed (but high-rated) The X-Files revival.
Most valuable player: Carrie Coon, HBO's The Leftovers (April 16, Sundays, 9) and FX's Fargo (April 19, Wednesdays, 10)
The Gone Girl alum is poised for a breakout year with starring roles in two of spring's returning series. First up, she's back as the grief-stricken Nora Durst in HBO's critically adored but low-rated apocalyptic drama The Leftovers, which migrates Down Under for its third and final season. Days later, she heads to frosty Minnesota for the next installment of Noah Hawley's brutal thriller Fargo, which this season stars Mary Elizabeth Winstead and Ewan McGregor (he plays two brothers).
Best paired with pie: Showtime's Twin Peaks (May 21, Sundays, 9)
NBC's sitcom murder mystery Trial & Error arrives on Pi Day (March 14), but you'll have to wait two more months for another slice of Double R Diner's iconic cherry pie in Twin Peaks. David Lynch's cult favorite is being revived for a long-awaited third season, and original cast members are joined by well-known guest stars including Naomi Watts, Amanda Seyfried and David Duchovny.
Most surprisingly timely: Hulu's The Handmaid's Tale (April 26, Wednesdays)
Margaret Atwood's dystopian 1985 novel soared to the top of Amazon's best-seller list this winter, which the author credits to President Trump. It's easy to see why: Hulu's ambitious adaptation follows a group of women (led by Mad Men's Elisabeth Moss) who are enslaved and used for reproductive purposes by an oppressive dictatorship.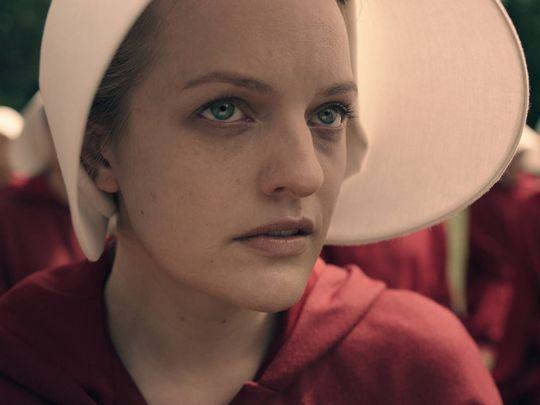 Elisabeth Moss plays Offred in Hulu's 'The Handmaid's Tale.' (Photo: Hulu)
Small-screen adaptation we actually want: Netflix's Dear White People (April 28)
It may be time we put a moratorium on movies-turned-TV shows, considering the awfulness of recent stabs Taken, Minority Report and Training Day. But we're holding out hope for Justin Simien's 10-episode spinoff of his 2014 satire, which examines race and class at a prestigious Ivy League university, and picks up directly where the film left off.
Most anticipated return: Gus Fring (Giancarlo Esposito) on AMC's Better Call Saul (April 10, Mondays, 10)
For better or worse, Better Call Saul has been a very slow crawl from smarmy lawyer Jimmy McGill (Bob Odenkirk) to his Breaking Bad alter ego, Saul Goodman. But his downward spiral may go into overdrive in Season 3, with the arrival of nefarious Bad favorite Gus Fring, purveyor of meth and fast-food chicken.
And suddenly we're craving fried chicken: Fast food purveyor/drug lord Gustavo Fring, (Giancarlo Esposito, left) enters the world of 'Better Call Saul.' (From left: Esposito, Bob Odenkirk and Jonathan Banks) (Photo: Robert Trachtenberg, AMC/Sony Pic)
Hardest goodbye: Comedy Central's Review (March 16, Thursdays,10)
After two seasons of "reviewing" everything from pancakes to sex tapes to murder, acerbic comedian Andy Daly's criminally low-rated comedy comes back for one last outrageous hurrah.
Kevin Bacon and Kathryn Hahn in Amazon's 'I Love Dick.' (Photo: Patrick Wymore)
Most awkward conversation starter: Amazon's I Love Dick (May 12, Friday)
Jill Soloway's follow-up to her Emmy-winning dramedy Transparent is sure to turn a lot of heads, thanks in large part to its provocative title and subject matter. Based on Chris Kraus' 1997 novel, the series reunites Soloway with Transparent's Kathryn Hahn, who plays an indie filmmaker obsessed with a charming professor (Kevin Bacon).
Biggest cliffhanger (tie): HBO's Veep (April 16, Sundays, 10:30) and Amazon's Catastrophe (April 28, Friday)
Where does a show about the president go when she's been ousted from office? We're about to find out in Veep's sixth season, which finds Selina Meyer (Julia Louis-Dreyfus) in uncertain waters as she tries to navigate life after the Oval Office. Catastrophe's third season picks up after an even more intriguing twist, when Rob (Rob Delaney) discovered his wife Sharon's (Sharon Horgan) receipt for Plan B, causing him to suspect infidelity.
Read or Share this story: http://usat.ly/2mvxYjb