At Lighthouse Roasters, the experienced team of roasters and baristas take pride in brewing coffee in Seattle, a city known far and wide for being coffee-centric. Often considered a worldwide hub for roasting and producing coffee, Seattle residents know their coffee and expect nothing but the best. And at Lighthouse Roasters, a local artisan coffee shop that's been roasting and brewing for almost 30 years, that's exactly what they'll get.
The shop prides itself on an old-fashioned, hands-on approach to roasting coffee. With a focus on traditional dark roasting and an emphasis on mastering the craft of roasting, Lighthouse is a local favorite that often entices customers in with a rich, warm aroma and a relaxed, friendly atmosphere. Located at 400 North 43rd Street in Seattle, the coffee shop has not only grown with the community over the years but also established a reputation far and wide beyond the city limits of Seattle.
About Lighthouse Roasters
Since 1993, Lighthouse Roasters has been roasting and brewing fine artisan coffee for locals and tourists alike. The roasters and baristas make coffee in small batches, using the freshest premium beans to roast in a vintage German cast-iron roaster daily.  Over the years, Lighthouse has cemented itself as a staple of the Seattle coffee community, which General Manager Craig Nobley attributes to the masterful roasting and craftsmanship that goes into each and every cup. 
Lighthouse Roasters also offers coffee for sale and subscriptions. The shop sells one-, two- and five-pound bags in a variety of blends, roasts and more. Some of their dark roasts for sale include a French Sumatra and French Roast, and some blends include the Lighthouse Blend, Washington Wild, Roaster's Choice, Mocca Java and more. They also offer a decaffeinated option. For subscriptions, customers can select the type of coffee, size and frequency of delivery as well as specify the method of brewing they use, such as French press or drip filter. In addition to individual sales, Lighthouse Roasters also has wholesale options for cafes, restaurants and resellers.
The roasting process
Nobley said at Lighthouse Roasters, their process revolves around dark roasting. He said the reason why is that darker roasts bring out the sugars in the coffee, which gives the drinker more of a syrupy sweet experience when drinking the coffee. Light roasted coffee tends to have more of a grassy flavor and has a reputation for being better, while that's not necessarily the case in Nobley's view. With the dark roasted coffee, Nobley said the drink will have a sweet, chocolatey flavor and will make good milk-based drinks. 
Lighthouse Roasters uses a small, vintage cast iron roaster from Germany when it comes to roasting equipment. Nobley said the roasters do an s-curve roast profile, which brings the heat up over a certain amount of time. They then let the coffee rest and later hit it with heat.
"Coffee roasting is similar to popcorn making," he said. "When heat is applied to the bean, there's still some oil and water, so it expands and pops." 
Nobley said a lighter roast will bring out pungent, fruit-forward flavors, but they don't mix as well with the milk-based drinks. The more traditional route is dark roasting, which is what Lighthouse embraces most.
"We roast to that traditional roast level," he said. 
The Gothot German roaster serves as the centerpiece at Lighthouse, where customers can get an up-close and personal look. Roasters do everything by hand, look, smell, feel and timing. This differentiates them from many other coffee shops that now rely on technology to track the roasting. Customers can also watch the roasting happen and ask the roasters questions.
"We do everything the old-fashioned way," Nobley said. "There's no automation. It's all manual. We really like to focus on the craft aspect, and we keep it in the hands of our roaster."
Nobley said they'll often see tourists come in to view the coffee roasting process. This experience allows them to enjoy the coffee at Lighthouse and get an education on how it's prepared for their cup.
Brewing coffee and mastering the art of roasting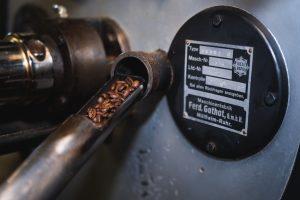 At Lighthouse, brewing coffee the French press way is the preferred method. Nobley said the French press is a very traditional way of brewing coffee, and it's done without a paper filter. This keeps the oils from steeping in the coffee, as other methods with paper filters extract the oils out of the coffee. While paper filter pour-over methods can clean up the flavors a bit, they can also decrease the strength of the flavor.
Nobley said at their coffee shop, 90 percent of the coffee that goes out is an espresso-based drink. To him, a great cup of coffee has to do with the freshness of the beans, the quality of the roast and the barista's preparation.
"They work together in concert to make that great cup of coffee," he said.
Nobley said that while coffee is an individual taste, they truly emphasize the dark roast at Lighthouse and encourage customers to not "be afraid of the dark." When it comes to a signature drink, one specific kind of coffee immediately came to mind for Nobley. 
"Our lattes are second to none," he said, adding that they're the most popular drink. He also said having world-class baristas is key to crafting a stellar cup of coffee, since "they can pull those flavors out of the coffee."
As far as learning coffee roasting and mastering the craft, Nobley said it's all about accumulating experience. Time at the roaster, learning the colors, experimenting with temperature and taking time to study the chemistry of coffee goes a long way. Knowing the ropes of the coffee space is also essential to becoming an expert in the field.
"There's a lot of chemistry that goes on with roasting," he said. "You also have to have knowledge of your product and the industry, as well as knowledge of the coffee that's available out there and the regions. It comes down to experience and load after load of coffee."
A dedicated, experienced team
At Lighthouse Roasters, the team is not only experienced but extremely passionate about coffee and community. With a roaster who has been at Lighthouse for 23 years and a roster of baristas who have more than 85 years of experience among them, customers received a masterfully crafted and artful cup of coffee.
"Our roasters and baristas are top-notch," Nobley said. "We have a great family here and a great community."
Nobley said operating a smaller, locally immersed coffee shop has helped preserve the quality of the coffee as well as build community. Now, Lighthouse has cemented itself as one of the fabrics of the Seattle coffee scene and the community as a whole.
"Bigger isn't always better," he said. "We've stayed small for a reason."
Seattle love and crafting a welcoming vibe
Nobley said one of the best aspects of being embedded in Seattle as a coffee establishment is that it's a coffee knowledge community. He said they have customers that have been coming in for 20 years.
"People in Seattle know a good cup of coffee," he said. "We love the small neighborhoods throughout the city, and we've been in our current location since 1995. We've grown with the community around us. The neighborhood has grown up around the business."
For Nobley and his team, connecting with the community is important in the sense that it helps integrate the brand with people and become more successful. 
"They're the ones that buy our coffee," he said.  "We want to be a beacon for the community. We want to be a gathering place and a source for the community."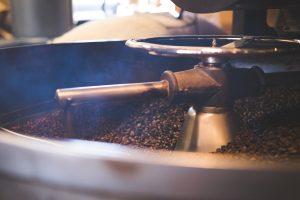 Coffee is often considered personal enjoyment and experience for many people, whether it's for socializing or working. Nobley said the experience of a coffee shop is impactful and important because each shop has its own personality, and customers often seek them out for that. 
"Coffee shops bring people together," he said. "There's nothing like wrapping your hands around that warm cup of coffee."
Not only is serving high-quality coffee important for coffee shops, but the atmosphere also plays a significant role in heightening the experience for consumers. Nobley said the atmosphere often relates to the product being served, and he's frequently seen coffee shops that focus on light roasts have lighter decor and vice versa. At Lighthouse Coffee, it's about incorporating the people. 
The shop is also an ardent supporter of the local art scene and has its own art curator. They rotate artists each month to display their talent and promote supporting local.
"Our atmosphere goes right along with our employees and coffee," he said. "Our vibe is friendly. Lighthouse is like the dive bar of the cafe. We're charming and rustic."
Ultimately, Lighthouse prides itself on being a staple of the Seattle community that is set on making sure its customers are happy and satisfied with their coffee, no matter what they love to drink.
"If you're looking for a coffee that is brewed by a very small, local artisan business, come here," Nobley said.