For the average person, the word "signage" doesn't evoke a sense of excitement, let alone interest. We see signs every day. We rely on them to orient us as we're driving down the highway or to help us find a specific office in a public building. Signs are so prevalent that we usually don't give them a second thought. Yet, give Brian Sims an hour of your time and he'll show you how exciting and interesting signage can be.
Brian is the owner of Evergreen Sign Company (ESC), located in Kent, Washington but that's not where his career started. In 1999, he and some business partners built an internet company. They designed the business to become a direct competitor of American Online. Their product offered better service at more affordable rates. It was a massive success that made millions of dollars in the first year alone. It didn't take long, though, before Brian could see the writing on the wall.  They were being left behind.  The fast pace of the tech industry was taking its toll financially and the business was falling apart. Around the same time, his uncle decided to shut down his printing business and move back to Georgia. As a result, Brian saw "a massive vacuum" in the Seattle printing industry after his uncle left town. So what did he do? What any good entrepreneur does. He capitalized on the opportunity and sold his interest in the internet company. Two years later he opened United Print Signs and Graphics which he still runs today.
After sixteen successful years in the printing industry, Brian purchased Evergreen Sign Company. In 2015, ESC became the newest member of the United family which opened them to the world of custom signage. Their strategy was simple. Create the best customer experience possible and leverage technology to remain competitive. It worked. Their formula has allowed them to compete at the top of their industry in a very short period of time. With divisions in property management, construction, and traffic Evergreen's performance is impressive. But it's the story of how Evergreen came into existence that tells everything you need to know about them.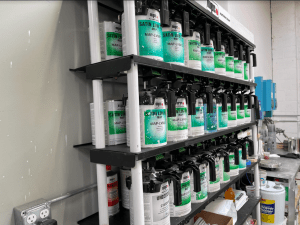 In July of 2013, construction of the SR-99 tunnel began in Seattle, Washington. At two and one half miles in length and seventeen meters in width, the project would cost around $3,000,000,000. Once constructed, it would be the longest and widest tunnel in North America. 
From the start, this massive project was fraught with problems. Projections estimated that drilling the hole would take fourteen months. It ended up taking over four years as obstacle after obstacle arose. Yet, it wasn't only the machinery falling short of expectations.
Amid the technical problems, one subcontractor filed a major discrimination lawsuit. By law, ten percent of contracting companies working on a federally funded public works project must be minority-owned.  The subcontractor had a strong case that discrimination was occurring and they ended up winning the lawsuit. 
This verdict forced the leading contractor to find and hire minority-owned contracting companies. They set up a meeting with a local non-profit organization named Tabor 100. Tabor represents and advocates for African-American businesses and the community at large. Sitting in that meeting, as the board Vice President for Tabor 100, was Brian himself.
In his own words, he explains, "I was sitting in the meeting, listening. The contractors were talking about all these opportunities available on this project. Then someone caught my attention when they said the word "signage." I told them that I do signage… The signage I was talking about is A-boards and wall signs, not commercial highway traffic signs, but I didn't explain that to them… They told me that they had a bid for the tunnel signage right then and there. I said, "Great!" and boom, just like that, I took it… We won that project and we didn't even know how to do it… We knew nothing about custom highway traffic signage at the time. We just took the opportunity and learned a whole lot along the way."
At that point, they purchased what is now Evergreen Sign Company and their first major project began.
What followed was six months of tiring and stressful workdays. First, they had to understand the countless details of the project. Then they had to source the materials. At this point, they didn't even own the proper equipment to do the job. So they outsourced the manufacturing of many sign components. Most people would allow any of these obstacles to stand in their way. Not Evergreen. They simply rolled up their sleeves and tackled the massive project with confidence. 
In total, the tunnel required over 1,500 signs. Each with its precise specifications required by the state. A ten-pound sign needed a mounting structure that could support three thousand pounds.  That sign then had to be placed at an exact distance from the keystone marker near the opening of the tunnel. Drilling a hole in the wrong spot could be costly and dangerous. The tunnel walls were curved so the mounting structures had to match the exact radius of the wall. One miscalculation might have rendered $50,000 worth of material useless. There was no margin for error while working at this level.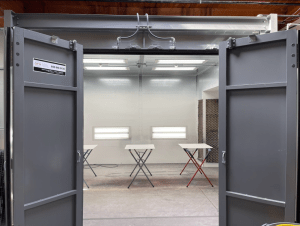 When a problematic Californian supplier wasn't communicating, what did Brian do? He took the time on a family vacation to drive to Sacramento and ensure they were getting the job done. "It was the commitment of learning and understanding the process as we were going through it. That's what allowed us to finish the project on schedule and on budget. We only experienced one failure that we were able to repair," said Brian.
Could the term "fortune favors the bold" be any more applicable? It was boldness that started Evergreen Sign Company. Brian took on the biggest construction project in Seattle's recent history, without experience. As he said, "Everything we do, we jump into man… That's literally how most things get started… I always tell people, "there's nobody in my family doing what I'm doing"… In my Life, I'm going to try and fail, try and fail, try and fail. I'm just going to keep doing it. In every failure, all I do is look for something to learn… We failed, learned, and then fixed our mistakes in the tunnel before it became the customer's concern… We had to learn on the fly, and we were excited about it." What he lacked in experience, he made up for in confidence. That confidence, excellent customer service, and strong team management brought them success.
In the construction industry, experience is everything. If you can't prove that you have the experience to handle a project, placing a bid is nothing but a waste of time. Completing the SR-99 tunnel gave Evergreen the experience needed to win future projects.
They haven't looked back since.  Over the past six years, ESC has only improved. They now host an impressive project portfolio across three different divisions. The team prides itself on its unparalleled customer service. They now have the equipment and systems in place to do the most thorough job imaginable. All while remaining one of the most affordable sign companies in the area. The result is a young company that outperforms competitors who've been in business for over a century.
So if you're in the Seattle area looking for custom signage, consider Evergreen Sign Company. No job is too big or too small. And you can be sure that you're getting the very best from people with unshakable confidence in their work.